Coping with Asthma and Illness at the Same Time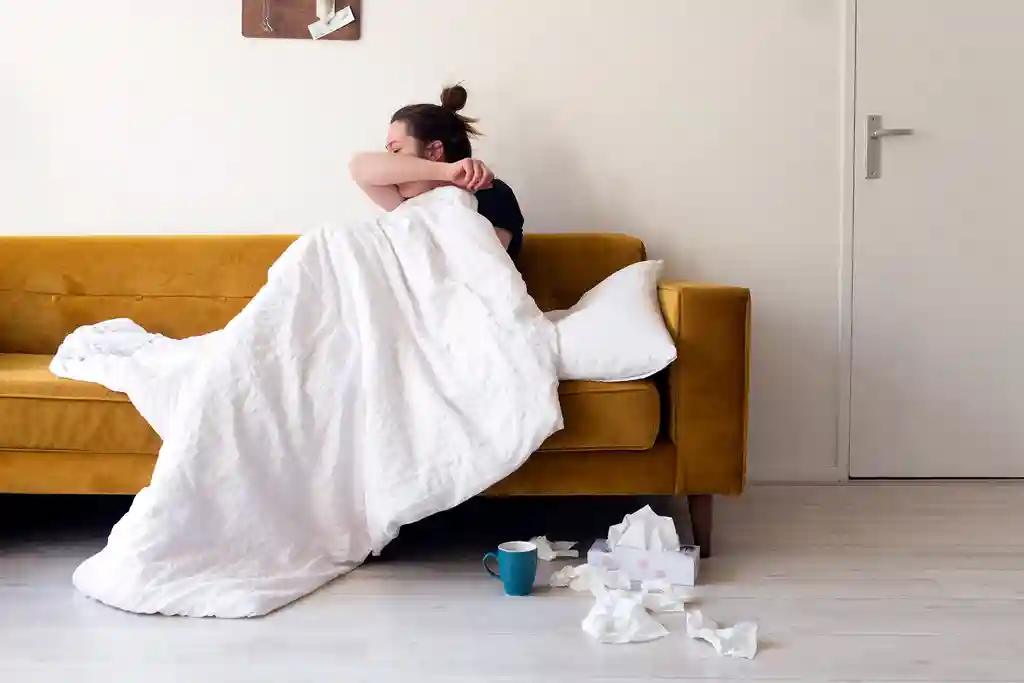 Asthma and the flu go hand-in-hand. A cold or flu can trigger an asthma flare-up before you know it. So, it's important to try to stay healthy and to know how to treat your asthma alongside the seasonal flu and respiratory illnesses.
Cold and Flu Season Triggers Asthma
If asthma isn't frustrating enough, it's also one of those chronic conditions that likes to piggyback onto other illnesses.
In other words, when our immune system drops, our asthma often flares up. And cold and flu season can be a treacherous time for those with asthma. A seemingly simple flu can turn into bronchitis, pneumonia, and of course, become even more complicated by asthma.
Asthma causes the lungs to fill with mucus and the airways to constrict. It can feel as though we can't get enough air into our lungs to meet our body's needs (for oxygen). And that's exactly what's happening during an asthma attack.
But that's also what can happen during an upper respiratory infection. So, if our immune system is suppressed during the seasonal flu, for example, our asthma may flare up and make things even worse.
All of a sudden, it's no longer the common cold.
How to Prevent Severe Illness
The best way to prevent a cold or flu from turning into an asthma attack or flare-up is to protect yourself from getting sick in the first place.
While it feels as though it's completely out of your hands, there are things you can do to prevent yourself from getting a seasonal bug. Things like:
Handwashing
Social distancing
Flu shots
Eating a well-balanced diet
Taking vitamins
Drinking plenty of fluids
You know, the typical take good care of yourself stuff.
It's the least you can do to give yourself the best chances of avoiding illness.
How to Treat Asthma While Sick
Sometimes, it's truly is unavoidable. Maybe someone you live with gets sick and passes it to you. Or you pick a bug up at work or at the store. There wasn't much you could've done to prevent it. Because, unfortunately, those are some of the things that aren't in our control.
But you can successfully manage your asthma and an illness at the same time by:
Taking your inhaler or nebulizer as directed. Keeping your asthma at bay will allow your immune system to kick in and kick the cold's butt!
Consulting with your doctor. Your doctor may prescribe decongestants to keep your lungs clear while you recover from your illness. If things get worse, you may even be put on steroids to help with inflammation.
The point is, a simple message to your doctor can go a long way in helping you manage your asthma and illness at the same time.
Keeping in good health goes a long way for people with asthma. But it's also important to know how to manage asthma when the unexpected happens.
Photo Credit: Roos Koole / Moment via Getty Images
Tell us what you think of this post?
Important: The opinions expressed in WebMD Blogs are solely those of the User, who may or may not have medical or scientific training. These opinions do not represent the opinions of WebMD. Blogs are not reviewed by a WebMD physician or any member of the WebMD editorial staff for accuracy, balance, objectivity, or any other reason except for compliance with our Terms and Conditions. Some of these opinions may contain information about treatments or uses of drug products that have not been approved by the U.S. Food and Drug Administration. WebMD does not endorse any specific product, service or treatment.
Do not consider WebMD Blogs as medical advice. Never delay or disregard seeking professional medical advice from your doctor or other qualified healthcare provider because of something you have read on WebMD. You should always speak with your doctor before you start, stop, or change any prescribed part of your care plan or treatment. WebMD understands that reading individual, real-life experiences can be a helpful resource, but it is never a substitute for professional medical advice, diagnosis, or treatment from a qualified health care provider. If you think you may have a medical emergency, call your doctor or dial 911 immediately.