Traveling While Under the Influence (of AFIb)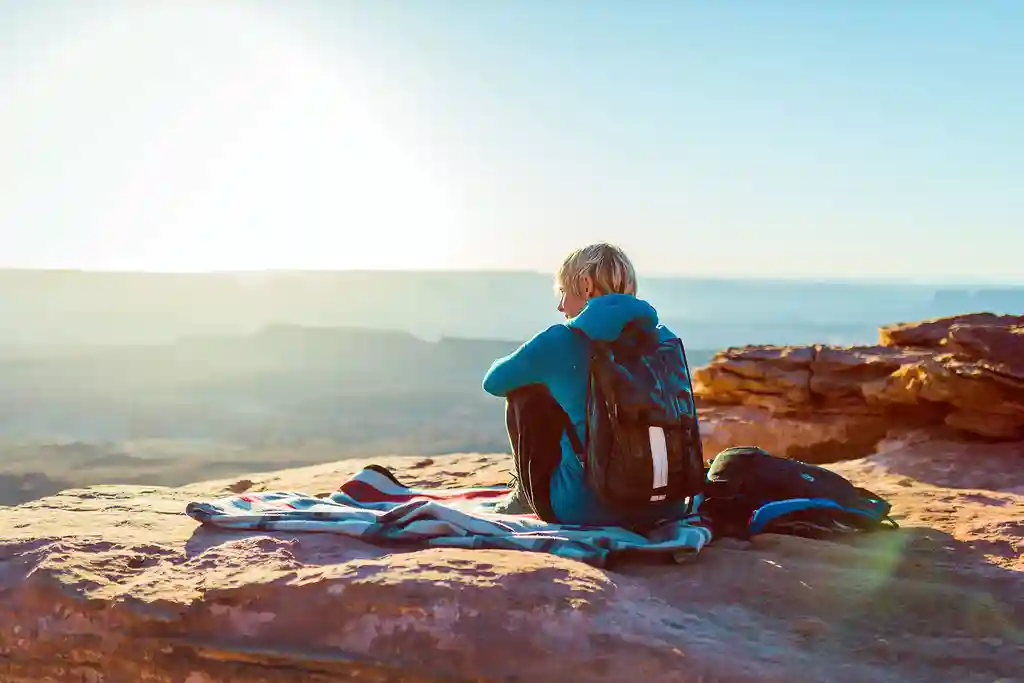 Remember travel? That really fun adventure we did pre-COVID? You go to new-to-you places, meet new people, see new things, eat new foods, immerse yourself in something new and different. Looks like the pandemic is receding enough that some of us are thinking about traveling again. But if you've never traveled while diagnosed with AFib, it may be a different kind of "new" experience.
I love to travel! I live to travel. I refuse to let AFib stop me from traveling, although it has definitely changed the way I travel over time. Spoiler alert: A good dose of stubbornness is my best strategy for traveling with AFib.
I spent nearly 30 years in 24/7 AFib. Early on, that didn't affect my travel at all. I had the energy to do most everything I had the courage to do (backpacking, international travel). AFib simply affected my pace (lower-than-everyone-else's aerobic capacity). As I got older, the AFib affected me more, and I tired much more easily. I carried a folding chair in the trunk of my car for events that involved a lot of standing and was always on the lookout for easy places to sit for a rest while traveling. One of the best pictures from our travels is me sacked out on the ground asleep in the Himalayas at the end of the trail, with our guide and ponymen sitting around me talking.
Fast-forward to my successful ablation, and travel was wonderful for the next 7 or so years. No fear of AFib episodes, and age-appropriate energy levels. Then the unexpected AFib episodes started, and each day of travel became an unknown. Especially on a trailer camping trip, if I wake up feeling dizzy, I am not much help setting up or deconstructing camp (no bending down while dizzy). Hiking, especially at altitude, is totally dependent on whether I'm having an episode or not.
Our activities are dictated by my AFib status, meaning I go with the flow and do as much activity as I can each day. Luckily, I'm married to the most understanding man ever, who requires me to listen to my body and does not complain if sitting in my plumpfy camp chair is the most I can bring myself to do. We both know that on other days, I feel great and we'll be off on a great hiking adventure.
Sleep apnea has also complicated the travel situation, and probably imposes the greatest limitations. I need to sleep using a CPAP every night, which means we need to have access to electricity. I've come up with some work-arounds that allow us to camp off the grid (I have a battery-powered travel CPAP and recharge the battery off the car engine while driving), but wilderness camping and hut-to-hut hiking in the Alps are a thing of the past. We're hoping to go on a trip to Turkey this fall, which includes 4 nights on a boat with no electricity during the night. I hope to be able to recharge the travel CPAP battery during the day, or else I'll be sleeping poorly those nights.
Regardless of whether you travel or not, you probably should notify the world that you have AFib. I suffered a concussion in a car accident in Alaska, and the cops had a hard time finding my husband (my driver's license address was in Pennsylvania). He made it to the hospital just in time to stop the doctors from giving me any heart rate or rhythm meds (I had already taken my daily dose and didn't need more). After that, I got a medical ID bracelet that I wear at all times (except when I'm in the metal-free MRI!). I've also put a medical alert on the front screen of my cellphone that includes my current medications.
I've shared my experiences and lessons learned traveling with AFib, but remember that everyone experiences AFib differently. And to be honest, AFib is a much lesser concern when I travel nowadays. With ongoing stomach issues, I'm now always on the lookout for the nearest public bathroom. But I'm not gonna let that stop me from traveling either!
Photo Credit: Cavan Images / Cavan via Getty Images
Tell us what you think of this post?
Important: The opinions expressed in WebMD Blogs are solely those of the User, who may or may not have medical or scientific training. These opinions do not represent the opinions of WebMD. Blogs are not reviewed by a WebMD physician or any member of the WebMD editorial staff for accuracy, balance, objectivity, or any other reason except for compliance with our Terms and Conditions. Some of these opinions may contain information about treatments or uses of drug products that have not been approved by the U.S. Food and Drug Administration. WebMD does not endorse any specific product, service or treatment.
Do not consider WebMD Blogs as medical advice. Never delay or disregard seeking professional medical advice from your doctor or other qualified healthcare provider because of something you have read on WebMD. You should always speak with your doctor before you start, stop, or change any prescribed part of your care plan or treatment. WebMD understands that reading individual, real-life experiences can be a helpful resource, but it is never a substitute for professional medical advice, diagnosis, or treatment from a qualified health care provider. If you think you may have a medical emergency, call your doctor or dial 911 immediately.