My Breast Cancer Diagnosis Gave Me a Purpose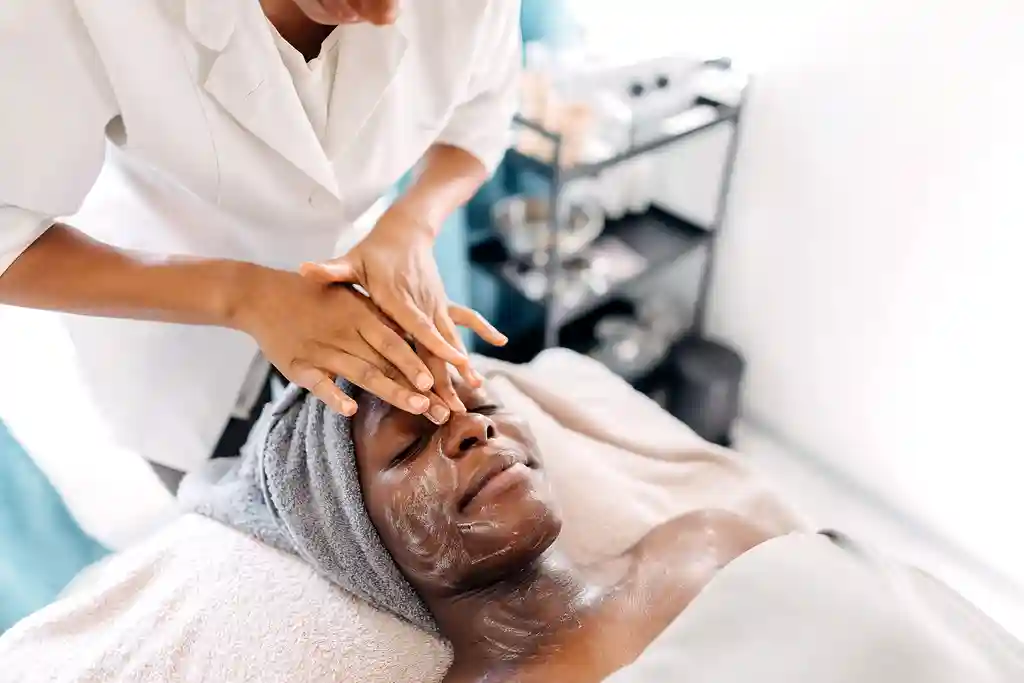 Allow me to introduce myself. My name is Tawana Mitchhart, but you may call me Tee. I am a 44-year-old mom and wife who was diagnosed with triple-negative breast cancer (TNBC) in December 2020, one week before Christmas, at one of the best times in my life.
Let's rewind a bit. Just 11 months prior to that, in January, I decided that while I had time off from my airline job thanks to COVID-19, I would start researching and educating myself about aesthetics. I had just recently become a fan -- I went on a cruise the previous year and got a horrible sunburn. I started going to see an aesthetician, and her knowledge piqued my interest and got me thinking about getting into the skin care industry. I started to research schools and decided to go to Paul Mitchell in hopes of getting an aesthetics license. I convinced my 20-year-old daughter at the time to go with me, so we were in college together! 

Remote learning meant we had to get creative with researching areas of skin care on our own. While all the other young adults/teens were focused on makeup, something in my spirit led me to focus on oncology aesthetics -- an advanced certification of skin care in which you learn to treat fragile skin that has been exposed to radiation and chemo and to avoid products that might work against cancer treatment.
I graduated in August 2020 and opened my own skin care shop that October in Hermitage, TN, with a focus on oncology aesthetics. I received my first certification through a program in North Carolina, but the top oncology associates program is OTI -- Oncology Training International. I am currently taking that course online. To be certified by them is amazing.
One day in November, I got an email from my doctor's office offering free mammograms for walk-ins because people were neglecting screening appointments due to COVID. I was one of those people -- I was supposed to have had my exam in February, but didn't go. So I decided to take myself to lunch and go get a mammogram. That's where my story really begins.
Not even a week after the mammogram I got a phone call from the breast center. They had seen a little spot they wanted to check out and were scheduling me for an ultrasound. Fast forward to the following week: I went in to have the ultrasound. I still wasn't really thinking anything bad. I just figured it was a routine.
I was fine until the nurse said, "We're all done. I'm going to go look at these pictures with the doctor. If everything is all good, I will come back in and just let you leave. If we see something, the doctor will come in and see you."
The next time the door opened, it was not the nurse but the doctor. That's when I knew something was wrong. They scheduled me for a biopsy 3 days later. On Dec. 14, I got the call from the doctor stating that I had cancer. She already had a follow-up appointment for me Dec. 17. Everything was tunnel vision from there.
I would ultimately do genetic testing and find out I had triple-negative breast cancer and carry the BRCA1 gene. Even though the cancer was in my left side, I ended up having a bilateral mastectomy with lymph node removal in March 2021. Sparing you all the horrible details, I would go through four treatments of one type of chemo and 16 weekly treatments of another type that I had to stop because I developed severe neuropathy in my right hand and foot. I also had 30 radiation treatments and three ports in a matter of 9 months. During that same period, I had nine surgeries because my body rejected the expanders, became septic, and dislodged ports. Needless to say, I went through it.  
Because I went through so much, I had to learn a lot about what was happening to my body. I researched every surgery that I had, why things were happening, and what could possibly have caused them to happen. I researched every medication they told me to take. I joined cancer groups to just speak with other women about their journeys and what they were going through. I would ask them about a certain medication that they were taking and do the research to figure out why I wasn't on the same thing because on the surface, our cancers looked just the same.
But the radiation is what really got me. After all those treatments, my body completely turned black on the left side of my chest, under my arm, and on the left side of my back. It burned and hurt all the time, and I just couldn't stand to see the way that it looked. In talking to the other ladies in the radiation waiting area, I found out they had some of the same issues. That's when the lightbulb came on! I realized I had the knowledge to help heal my own skin. I started making tinctures out of essential oils and dabbling in plant therapy while making creams and balms. It worked! I was onto something.
One night I was lying in bed praying. I knew I wasn't ready to go back to work, but I was ready to get out of the house. I said, "God, what do you want me to do?" In my dream that night, he gave me the idea of my nonprofit. That's how Pinky The Mobile Skin Coach was born.
Right now I have a private suite in Nashville, but my goal is to create a mobile skin care unit so I can literally meet cancer patients where they are. I plan to convert a small camper or RV into a mobile skin care unit and meet these clients at their homes or in a quiet setting.
The plan is to offer a free facial to any client that has gone through or is going through cancer. There will also be some coaching involved if they need it because I am a certified a life coach who specializes in cancer coaching. I want to teach them what I learned – how to help heal their skin in a more natural way by using topical elements, changing their diet, and most of all, changing their mindset.
I don't want it to feel clinical. I don't want them to feel like they are coming into my office. I want them to feel like they're talking to a friend, having a cup of tea or coffee. I want to let them get out all the feelings without being judged. Then I'll have a better idea of what kind of coaching they need. Do they just need a friendly ear? Do I need to figure out what skin care products they're using and make sure they're still safe for them to use? Do they need assistance finding organizations to help them financially? Do they need wigs? I want to help them do all that and cheer them on to get through this with their head held high.
Hopefully it'll turn into a one-stop shop that will allow them to also get free wigs, free nail care, maybe even that first haircut a lot of us get before we lose our hair to chemo. It would be awesome if we could offer a photo shoot, too, because that's one of the few things we have control over in this cancer game -- getting rid of our hair on our own terms.
Ultimately, I want to see this in more places than just Nashville. I would love to have a network of service providers in every state so when someone wants this free service, my network of aestheticians and service providers would allow a cancer patient to go into a salon or spot in another state, get that service from someone that has been trained in oncology aesthetics, and it still be through my organization.  
We created a GoFundMe campaign to get the word out. My husband is a musician. Nashville's bars were closed during the pandemic, so he started making and selling cigar box guitars. That helped us with a lot of medical bills. We also had tons of agencies that helped us out while I was going through treatment. We decided to donate back to them once we were able to do so.
Once Nashville's music scene reopened, my wonderful husband surprised me. He told me he wanted to help get my nonprofit off the ground. He would continue to sell the guitars during his shows and use the time to tell people about my nonprofit. And he would donate proceeds to my organization.
One night on the road he told my story. Someone in the crowd owned a camper they wanted to donate. Not even a week later, my husband was driving to Kentucky to bring back a brand new 2022 camper for us to use!  
I couldn't believe it. Getting that camper and people hearing my story led to us appearing on several local and nationally syndicated shows. I had people calling from all over the U.S. wanting to know about the nonprofit. In that moment, I just had to sit and thank God for the blessings. I've always been a person of service, and I knew that this is what I was put on this earth to do -- to be of service to these patients that are going through or have gone through cancer; to help coach them through this thing because I have been where they were in their battle. They have someone they can talk to who has been in the same trenches. Someone who has fought the same fight.
This nonprofit has changed my life into something I never imagined. Before cancer, I was living a good life, but there was no substance to it. I was just existing. I guess that's why I sought out aesthetics -- because I was looking for something new. I was always looking for the next thing to do to have under my belt. Always running. Never at home. Always feeling the need to do something but nothing had any purpose.
After starting this nonprofit, I know it is a gift from God. I believe that I was allowed to go through this cancer journey so I could be in this position to run this organization, to help these women that have gone through the same things. I believe God has given me another chance because he knows I have a servant's heart and my job on this earth is to be of service to someone else. My job here is to help.
These clients know that we aren't the same person that we were before cancer. Now we're a much better version of ourselves. Our minds may have changed. Our bodies may have changed -- and we have to get comfortable with what they look like after cancer -- but we look at life with a deeper meaning. It's a gift and I am here to walk in my gift and be a part of the gift of life for others, helping them to learn to "Love the Skin You're In, AGAIN!"
I have a new outlook on life, and even though it may be hard to believe, cancer saved me from ME!
To connect with other breast cancer survivors, join our Breast Cancer Facebook Support Group. 

Photo Credit: eclipse_images / E+ via Getty Images
Tell us what you think of this post?
Important: The opinions expressed in WebMD Blogs are solely those of the User, who may or may not have medical or scientific training. These opinions do not represent the opinions of WebMD. Blogs are not reviewed by a WebMD physician or any member of the WebMD editorial staff for accuracy, balance, objectivity, or any other reason except for compliance with our Terms and Conditions. Some of these opinions may contain information about treatments or uses of drug products that have not been approved by the U.S. Food and Drug Administration. WebMD does not endorse any specific product, service or treatment.
Do not consider WebMD Blogs as medical advice. Never delay or disregard seeking professional medical advice from your doctor or other qualified healthcare provider because of something you have read on WebMD. You should always speak with your doctor before you start, stop, or change any prescribed part of your care plan or treatment. WebMD understands that reading individual, real-life experiences can be a helpful resource, but it is never a substitute for professional medical advice, diagnosis, or treatment from a qualified health care provider. If you think you may have a medical emergency, call your doctor or dial 911 immediately.