Meal Kits: Pros and Cons From a Nutritionist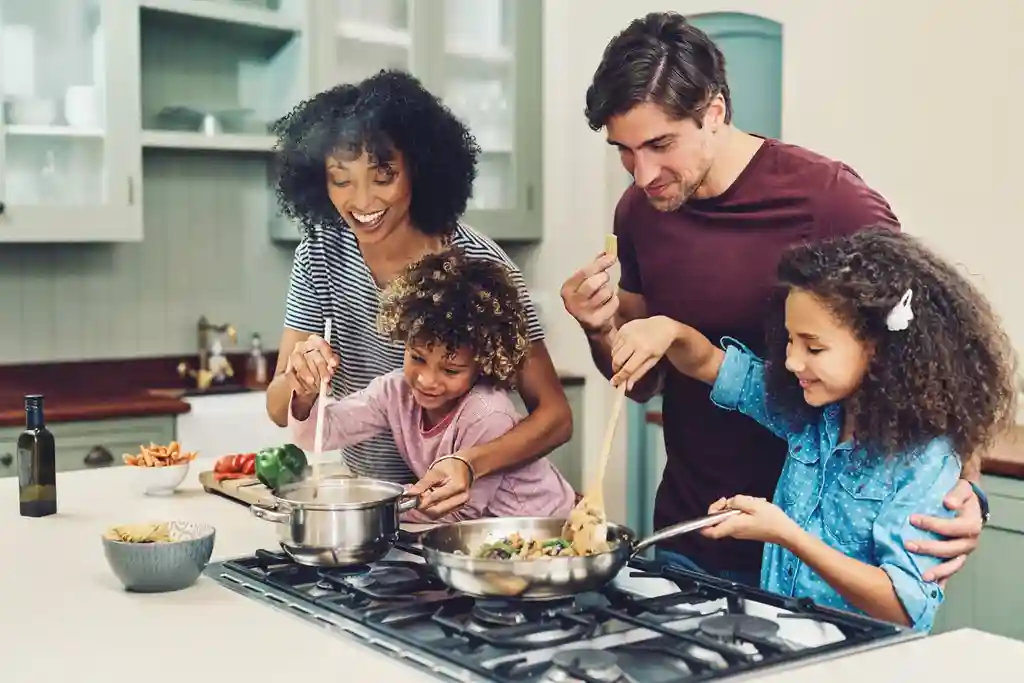 For anyone who doesn't like the hassle of cooking, the promise of meal delivery kits can be incredibly appealing. How it works: You pick a few meals online, and kits arrive at your doorstep with everything you need to make them, including step-by-step instructions and all the ingredients measured out and prepped for you.
Though they've been around for several years now, meal kit delivery services have been enjoying a huge boost lately, due to pandemic-related shutdowns, stay-at-home orders, and a general trend toward staying in. Sales of these kits in the spring were reportedly double what they were last year during the same time. Restaurants are getting in on the action too, boxing up their own kits for customers to take home and make themselves in lieu of dining in.
As a family, we've tried a handful of different meal kits over the years, and I've formed a few opinions along the way. If you're wondering whether you should try a meal kit service, here's my take:
What I Like About Meal Kits
The convenience: Beyond ordering take-out, you can't beat the ease. Everything is corralled together in one box. No rooting around in the fridge, no running to the store for a missing ingredient. (It's like being on a cooking show with everything prepped and measured for you!)
The skill-building: If you're not confident in the kitchen, these kits can help you pick up new techniques and give you a sense of pride at creating something delicious yourself. It's also a great way for your kids and grandkids to learn their way around the kitchen and feel a sense of accomplishment (without lots of extra, messy prep work).
The healthy choices: I'm impressed by how many healthy options are offered through meal kit companies, with lots of emphasis on fresh vegetables and plant-based meals. It's easy to find meals based around specific patterns of eating, like vegetarian and vegan.
The inspiration: Meal kits can give you new ideas for food combinations and recipes. I've kept several of the meal kit recipe cards to recreate the dinner again with my own store-bought ingredients.
What I Don't Like About Meal Kits
The packaging: The plastic bags and containers, bubble wrap, insulated foam, and cold packs create a mountain of disposables with every delivery box. Some delivery companies use recyclable materials, and others connect subscribers to places to help with recycling. But still, it's a lot. If you can buy these kits at your local grocery store (versus ordering them by mail), that's one way to reduce waste.
The cost: No doubt they can be pricey – between $5-10 per serving in most cases, but sometimes more. That's less than a typical restaurant outing, but generally more expensive than cooking from scratch. And that price point means they're not feasible for everyone, especially on a regular basis. You can save money by looking for special promotions and shopping around.
The limited menus: Not all recipes will appeal to all eaters, especially picky ones. Some services let you customize more than others, so be sure to check that out before signing onto a subscription.
Tell us what you think of this post?
Important: The opinions expressed in WebMD Blogs are solely those of the User, who may or may not have medical or scientific training. These opinions do not represent the opinions of WebMD. Blogs are not reviewed by a WebMD physician or any member of the WebMD editorial staff for accuracy, balance, objectivity, or any other reason except for compliance with our Terms and Conditions. Some of these opinions may contain information about treatments or uses of drug products that have not been approved by the U.S. Food and Drug Administration. WebMD does not endorse any specific product, service or treatment.
Do not consider WebMD Blogs as medical advice. Never delay or disregard seeking professional medical advice from your doctor or other qualified healthcare provider because of something you have read on WebMD. You should always speak with your doctor before you start, stop, or change any prescribed part of your care plan or treatment. WebMD understands that reading individual, real-life experiences can be a helpful resource, but it is never a substitute for professional medical advice, diagnosis, or treatment from a qualified health care provider. If you think you may have a medical emergency, call your doctor or dial 911 immediately.