How to Make the Most of Online Therapy During COVID-19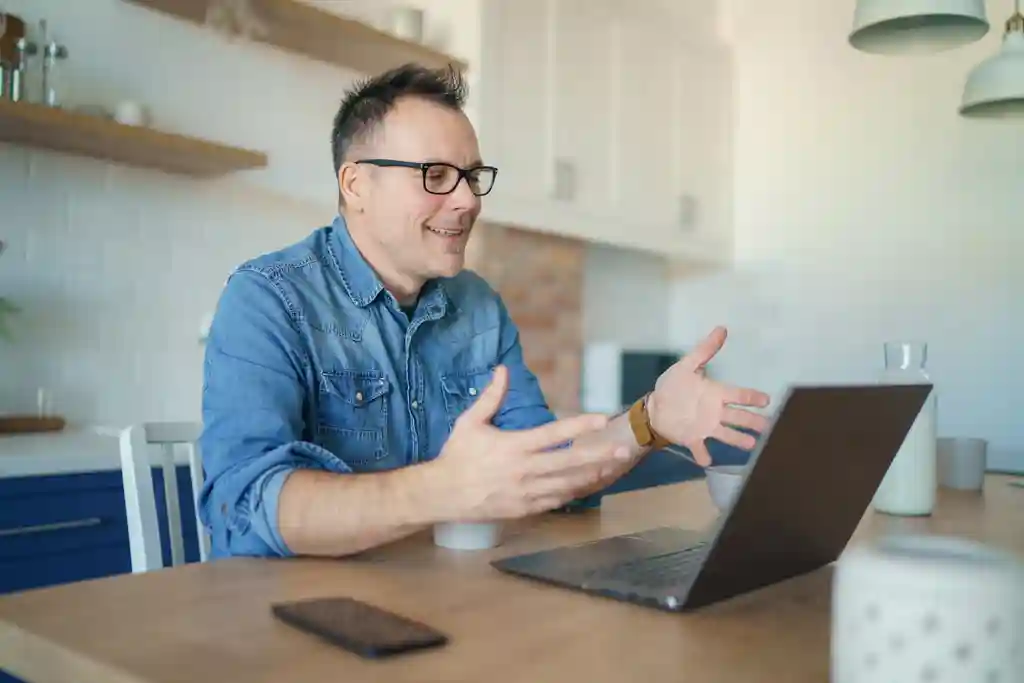 People often start psychotherapy because they're facing unprecedented challenges and are feeling overwhelmed. Sounds a lot like the times we're living in, doesn't it? The ongoing disruption and uncertainty from the coronavirus outbreak are exactly what would compel many people to seek out a therapist.
And yet unfortunately, social distancing has forced therapists to temporarily close their doors. Even patients who were already in therapy no longer have the option of being in the same room with their therapist.
Thankfully, therapy may still be available to those who need it. Many therapists offer online therapy sessions through video conference (called "teletherapy"), so if you have a computer and an Internet connection, teletherapy may be an option for you.
I've been providing teletherapy services for the past 10 years, and have found it to be an effective way to bring treatment to people who lived too far away to see me in person. In fact, several months ago I transitioned to doing all of my sessions through video conference. (Long story—I'm recovering from a longstanding health issue.)
There's good evidence that teletherapy works, which has been my experience as a therapist. I've seen it help with anxiety, depression, obsessive-compulsive disorder, insomnia, relationship issues, grief, and trauma. I've led patients in guided meditation through teletherapy, developed plans with them for facing their fears, and reviewed their sleep data together. I've witnessed powerful emotional breakthroughs as people revisited their trauma memories. I've cried with patients as they shared their hurts and grief.
And while I haven't been on the receiving end of teletherapy, I've been helped enormously through other video conference meetings, including vocal therapy, nutritional counseling, and personal coaching. In fact, a single Zoom session with a skilled coach led to some of the most profound life changes that I've made.
Of course, teletherapy isn't exactly the same as in-person therapy. Obviously, you're seeing a digital representation of your therapist instead of a three-dimensional flesh-and-blood person – and being together virtually feels different than being in the same room. It may seem like a small point, but I miss being able to extend the small but meaningful gesture of handing my patient a tissue if they cry.
Sometimes there are problems with the technology that can be frustrating, like a delay that causes you and your therapist to keep interrupting each other. But in my experience the tech side doesn't tend to be a problem, and any issues that come up can be handled with patience and a little humor.
If you're thinking of teletherapy for yourself, find a therapist who offers online sessions. Many more are now doing it because of social distancing, and may not have updated their websites yet to show that they offer it, so it may be worth calling therapists even if they don't advertise teletherapy services.
Once you've found a therapist, I recommend preparing for your sessions in the following three ways: System, Space, and Self.  
Prepare the System
Find out from your therapist what videoconference platform they use. (Some therapists offer phone sessions instead of video.) Skype and FaceTime are options most people are familiar with, although they're not HIPAA compliant. More secure platforms include VSee (which I use), Zoom, and Doxy (among others), which you can download for free.
Download and test the software before your first session to make sure it's working, and for your peace of mind. You won't want to be scrambling to get the technology squared away when it's time for your first appointment. Also be sure you have your therapist's contact information (e.g., VSee username), and find out if you'll be calling them or vice versa.
Video conferencing tends to eat up a lot of processing power on your computer, so close programs that could slow it down and interfere with the quality of the video. Minimizing these kinds of issues will make for a smoother experience.
I use ear buds myself, and recommend them for privacy and better sound quality. Otherwise the other person's voice can feed back from your speakers into your microphone and create distortion in their audio.
Prepare the Space
Without the dedicated space of a therapist's office, you'll need to create your own. Find a place in your home where you'll have as much privacy as possible. This could be a challenge if your kids are home all the time because of school closures, or if other family members are working from home. Consider using a white noise machine for added privacy (I used one like this in my therapy office); be sure to place it outside your room.
Make sure you have a comfortable place to sit for the length of your session. Aim to have the top of your head near the top of your video screen, rather than in the bottom half. That way it will feel like your therapist is looking right at you when they're looking at your face, since your face will be close to their camera (assuming it's at the top of their computer). Place your screen on a stable surface like a table or desk, since excessive movement can create a feeling of seasickness for your therapist. If their screen is bouncing around, ask them to do the same.
Be sure to close email, and turn off notifications that could be distracting. The break from messages and social media will do you good, and will preserve your full attention for the session.
Prepare Yourself
Be aware of any anxiety you might have about starting therapy, or about teletherapy in particular. It's normal to feel anxious when you're starting something new, especially when there are a lot of unknowns like there are with psychotherapy. Acknowledge what you feel, and bring it up with your therapist if that might be helpful.
As much as possible, have a transition time before and after your session. Traveling to a therapist's office provides a built-in buffer zone between therapy and whatever you do before and after. With teletherapy, in contrast, it's easy to stumble into a session directly from the stress of taking care of young kids, tending to pets, working from home, or arguing with your spouse.
If you have a 45-minute session, for example, see if you can block off 60 minutes for it; spend 5 minutes doing relaxed breathing before the session, and 10 minutes afterward to start to process your thoughts and emotions. (More time obviously would be great, but I know we're all working within our limitations.)
The vast majority of clients I've treated through teletherapy seem to find that it goes smoothly. It might take a bit longer to feel connected if you've never met your therapist in person, but soon enough I've found that a close alliance can develop that supports the work of therapy. Eventually most people actually seem to forget they're doing teletherapy, probably similar to the experience of forgetting you're watching a movie when you're absorbed in the plot.
If you generally like Skyping and FaceTiming people, you'll probably be comfortable with teletherapy. If you hate videoconferencing, you might have a harder time getting used to it. Some people may decide it's not for them. Consider giving it a try for a few sessions if you're on the fence about it. It could be a safe and convenient way to get the support you need during a very challenging time.
Tell us what you think of this post?
Important: The opinions expressed in WebMD Blogs are solely those of the User, who may or may not have medical or scientific training. These opinions do not represent the opinions of WebMD. Blogs are not reviewed by a WebMD physician or any member of the WebMD editorial staff for accuracy, balance, objectivity, or any other reason except for compliance with our Terms and Conditions. Some of these opinions may contain information about treatments or uses of drug products that have not been approved by the U.S. Food and Drug Administration. WebMD does not endorse any specific product, service or treatment.
Do not consider WebMD Blogs as medical advice. Never delay or disregard seeking professional medical advice from your doctor or other qualified healthcare provider because of something you have read on WebMD. You should always speak with your doctor before you start, stop, or change any prescribed part of your care plan or treatment. WebMD understands that reading individual, real-life experiences can be a helpful resource, but it is never a substitute for professional medical advice, diagnosis, or treatment from a qualified health care provider. If you think you may have a medical emergency, call your doctor or dial 911 immediately.