My Secret Migraine Garden: Herbal Remedies I Use for Pain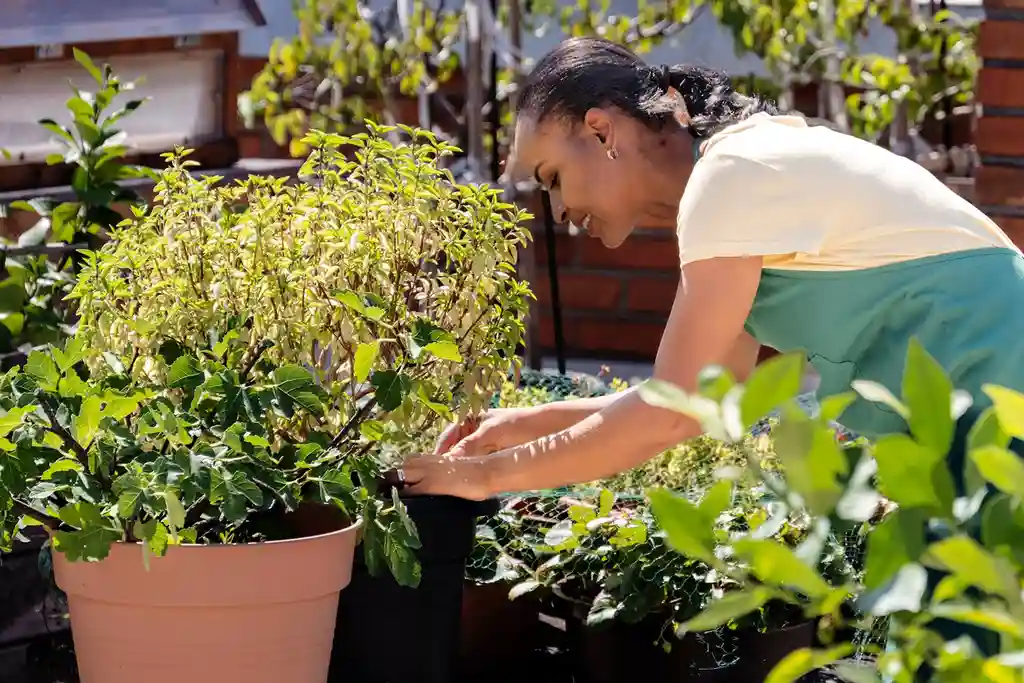 It seems like grandmothers and gardens go together like rice and peas.  
My grandmother and many of my family had gardens of all sizes. I was mesmerized by them. It cultivated my love for playing in the dirt, and while I'm still honing my green thumb, I'm determined to make things grow. 
In recent years, I've been captivated by what I'll call "useful" gardening. I love seeing gardens that are simply for beauty. But as a struggling multitasker, I have been really interested in growing things that can be used in cooking or for medicinal purposes. A quick peek at my recent Google searches will bring up everything from "how to prune basil" to "plants that help you sleep." Just last night I googled "plants that repel mosquitos." I stumble on these things as if they are new developments when at the end of the day, most if not all of our ancestors used the healing power of plants long before there was a local pharmacy. (I can't imagine there was a time in history when women who used plants for healing were considered evil.) Still, plants and herbs have a powerful effect. 
There are a host of other herbal remedies that aren't as familiar, and I haven't tried as many of those quite yet. I'm not against them, but I've tended to gravitate to things I recognize and already use in cooking, cleaning, or home scents. 
Here are five household names that are reported to help migraine. Some are used in essential oil form, others in teas, and some in supplements. A few herbs (echinacea, St. John's wort, ginkgo biloba, and valerian root, among others ) may interact with migraine medications. Some reports say that garlic and grapefruit in excess might not be great with prescription migraine meds as well, so proceed with caution and check with your doctor first. Happy growing!
Peppermint: Unless you're in a gardening groove, it can be easy to forget that peppermint is more than just a gum flavor. It's one of many mint varieties that for some can stave off a migraine. I have tried a drop of peppermint oil on my temples, and it helps for about an hour for me before I need to reapply. I've found mint is easy to grow and it spreads, so I usually put it in a wider pot. 
Lavender: This is such a pretty purple plant, and now experts have suggested that inhaling some lavender oil can help with migraine. It's also a calming scent, and since my migraines are often triggered by stress, it does double duty. Well, triple duty, if you count keeping mosquitos away as it's reported to do. I grab everything I can in lavender -- room sprays, cleaning supplies, and more. I can't always predict a migraine, but I can at least have some of what I call "the purple stuff" nearby. 
Lemon balm: I grew this herb one summer and absolutely fell in love with it -- in teas (both hot and cold) and just to smell. Lemon balm is a calming herb and has been used for centuries in medicine to help with sleep, decrease migraines, and just help folks chill out. If you want your garden to smell amazing, get yourself some lemon balm!
Ginger: Like a lot of people, I know about ginger tea for tummy aches. I've sipped on it when I was nauseated (which comes along with my migraines) and it has helped. I recently read that it can increase serotonin levels, which might also be good for keeping migraine at bay. I've never tried growing my own, so I'll keep picking up a root at my local grocery store until I'm ready to give planting it myself a try. 
Rosemary: Early in my herbal gardening journey, I found rosemary one of the easiest to grow. I love to snip it off and take a whiff, and of course, it's great in so many recipes. Learning it may help with migraine, and sleep makes it even more attractive. 
Bonus tip: Running out of the door to a birthday party or another celebration and don't have time to grab a gift? No problem.  Snip a few herbs from your garden, tie them with a pretty ribbon, make a simple label, and voila! 
Tap into a community of fellow migraineurs on Facebook. Learn, share, connect in our Migraine Support Community.
Photo Credit: simonkr / E+ via Getty Images
Tell us what you think of this post?
Important: The opinions expressed in WebMD Blogs are solely those of the User, who may or may not have medical or scientific training. These opinions do not represent the opinions of WebMD. Blogs are not reviewed by a WebMD physician or any member of the WebMD editorial staff for accuracy, balance, objectivity, or any other reason except for compliance with our Terms and Conditions. Some of these opinions may contain information about treatments or uses of drug products that have not been approved by the U.S. Food and Drug Administration. WebMD does not endorse any specific product, service or treatment.
Do not consider WebMD Blogs as medical advice. Never delay or disregard seeking professional medical advice from your doctor or other qualified healthcare provider because of something you have read on WebMD. You should always speak with your doctor before you start, stop, or change any prescribed part of your care plan or treatment. WebMD understands that reading individual, real-life experiences can be a helpful resource, but it is never a substitute for professional medical advice, diagnosis, or treatment from a qualified health care provider. If you think you may have a medical emergency, call your doctor or dial 911 immediately.