Living Within Our Limits – Accepting and Adapting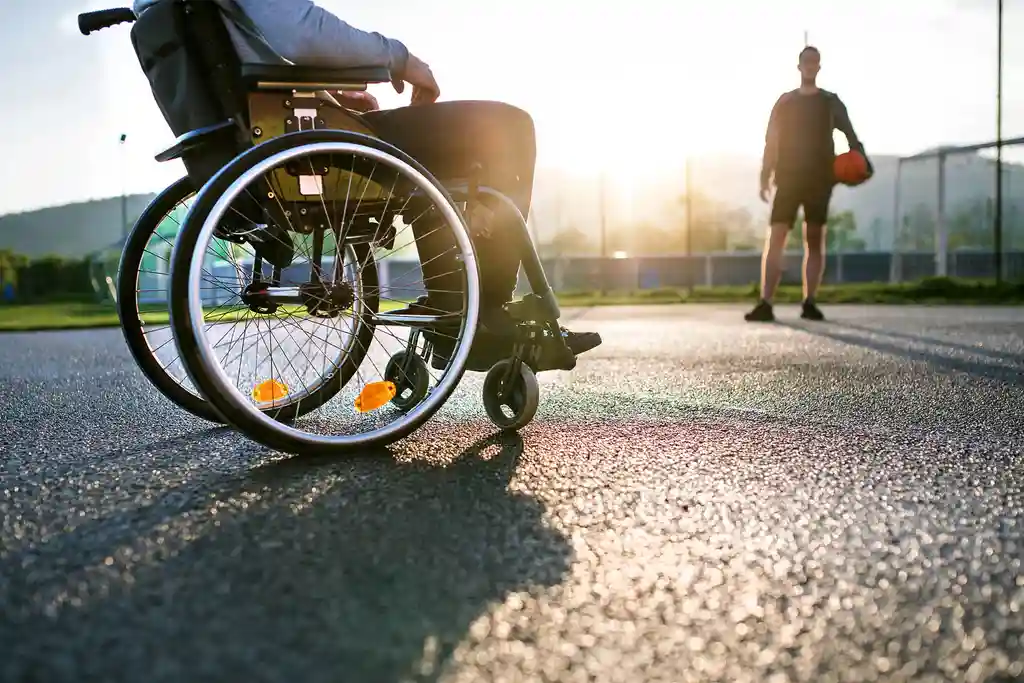 After my first multiple sclerosis (MS) relapse, I wanted to get back to normal as quickly as possible. I wanted to resume playing basketball, restart working full time. But "quickly" turned out to be never, and normal turned out not such a great goal anyway.
A much happier, healthier, and more productive goal has been learning to accept and adapt to difficult physical and mental changes. For 40 years, I've been coping with the losses and learning the lessons MS teaches. I don't like always having to adapt, but it can be done.
One thing I know: If I hadn't been willing to accept my losses, I would have been angry and miserable much of the time. I would have driven away the people who loved me. As it is, I'm doing less of what the world calls productive work or physical activity, but I feel good most of the time. I still have a place to live, a loving wife, and a writing semi-career. In this piece, I look back at what has helped me adjust to MS and what hasn't worked so well.
Accepting doesn't mean giving up. They say, "Disability doesn't mean not being able to do things; it means finding different ways to do things." You don't get back to normal; you find a new normal.
After I could no longer play ball, I started doing water exercise at the YMCA, so my weight was supported by the water. When standing in the shallow end for water aerobics got too difficult, I switched to deep water wearing a flotation belt.
I'm grateful I had access to a pool with classes like that because our bodies need to keep moving. So far, I've been able to find a way, and almost anyone with MS can do something. I can't get on the dance floor, but I can move in my chair. I can't go on hikes over the hills, but I can get out to parks and move and be in nature. I can do PT exercises in bed, seated aerobics, or qi gong, which help me a lot.
In work, I had to give up emergency room nursing and became a telephone advice nurse. You can't imagine how much less stressful that was! I like to hear people's stories, talk, teach, and learn, so advice nursing was a great match. I never would have found it if I had insisted on trying to continue with hands-on nursing or had given up entirely.
Do without overdoing. Knowing when to stop has been one of the hardest things to accept. If you're like me, you find that on a good day, you want to catch up on things you couldn't do all week. When I overdo, I always pay a price. Sometimes, the price is feeling exhausted for a whole day afterward, but sometimes it's more like an immediate collapse. It's so important to listen to our bodies, especially when they're saying "Stop! Rest! Go home!"
I remember winding up in an ambulance because of overdoing on a hot day. I was having a good time with a friend and didn't want it to stop. I knew I was getting too warm but didn't pay attention. Now that I have accepted putting my body's needs first, I haven't needed an ambulance, but I do have to go home or take a nap sometimes when I'd rather stay out.
I think it's important to check in with my body frequently. There's a saying that "You don't know you're running out of gas until you're out of gas," and this is especially true with MS. Don't try to tough it out. My rule is that if I really want something, I can push my limits, but if something sounds like it could be an ordeal, I have to say no.
[Like, I'm getting tired typing this right now. It's kind of warm, and it's getting hard to use the keyboard, so I'm going to rest.]
[OK. 15-minute nap, did a few stretches, turned on a fan to cool down. I'm back.]
So glad I work from home where that kind of break is possible!
For some people, the hardest thing to learn is not judging ourselves, especially not judging on the basis of how much we accomplish. Comparing my abilities or productivity with another person's would make me sad for no reason. "Look at what he can do, and he's older than me, so he's a better person."
Of course, comparing ourselves with others is a problem for everyone at any stage of life. Unless you're going to get into a wrestling match with them, what difference does it make? Their lives are different, so they can do different stuff. When someone accomplishes wonderful work, I can be jealous of them or delight in their presence in the world or in my life.
With a progressive illness, though, we also tend to compare ourselves with the people we used to be. Our new selves often come out second best in this comparison. We don't always see the ways in which our life is still good and may even have improved. Who really misses a 50-hour work week?
I think it's important not to judge our progress too close-up. Take a long view and a broad view. A bad day doesn't mean my MS is getting worse. A good day doesn't mean I'm getting better. It could be the weather or what I ate or something stressful that happened.
Take it one day at a time, one hour at a time. Note what makes you worse and what makes you better, and do more of the helpful and less of the hurtful stuff.  
Focus on what's really important. When I accept that I can't do everything, do as much as other people or as much as I used to do, then I can choose to do what's important to me. What matters to me may or may not be what's important to others in my life. We need to consider other people's needs, but our bodies should come first whenever possible.
My family seems to support me in my writing and understand when I can't come for a visit or when I have to cancel a plan. When I say, 'Sorry, I have to go home now,' after 2 hours shopping or at a museum or whatever, they're OK with it. Probably the friends who weren't OK with it have dropped away, but there are always new ones.
Since working less usually means less money, I have to adapt my expenses and priorities, like taking in a roommate to help with rent, eating more leftovers instead of going out, avoiding expensive dates -- choices many people have to make all their lives. I'd love to eat out more and go to some shows, but since I usually can't, I appreciate the blessings of having so many wonderful shows to choose from on TV and so many things I (or more often my wife) can cook and find delicious. And I can choose to splurge once in a while. (Still working on that one.)
Living within our limits is hard, but it's not torture. Everyone has limits, whether they recognize them or not. If we're creative and willing to change, living within MS limits can feel like a challenge but not a burden.
To connect with other people living with multiple sclerosis, join our MS Facebook Support Group.
Photo Credit: Grape Images / E+ via Getty Images
Tell us what you think of this post?
Important: The opinions expressed in WebMD Blogs are solely those of the User, who may or may not have medical or scientific training. These opinions do not represent the opinions of WebMD. Blogs are not reviewed by a WebMD physician or any member of the WebMD editorial staff for accuracy, balance, objectivity, or any other reason except for compliance with our Terms and Conditions. Some of these opinions may contain information about treatments or uses of drug products that have not been approved by the U.S. Food and Drug Administration. WebMD does not endorse any specific product, service or treatment.
Do not consider WebMD Blogs as medical advice. Never delay or disregard seeking professional medical advice from your doctor or other qualified healthcare provider because of something you have read on WebMD. You should always speak with your doctor before you start, stop, or change any prescribed part of your care plan or treatment. WebMD understands that reading individual, real-life experiences can be a helpful resource, but it is never a substitute for professional medical advice, diagnosis, or treatment from a qualified health care provider. If you think you may have a medical emergency, call your doctor or dial 911 immediately.