The Top 7 Things That Let Me Live Well with MS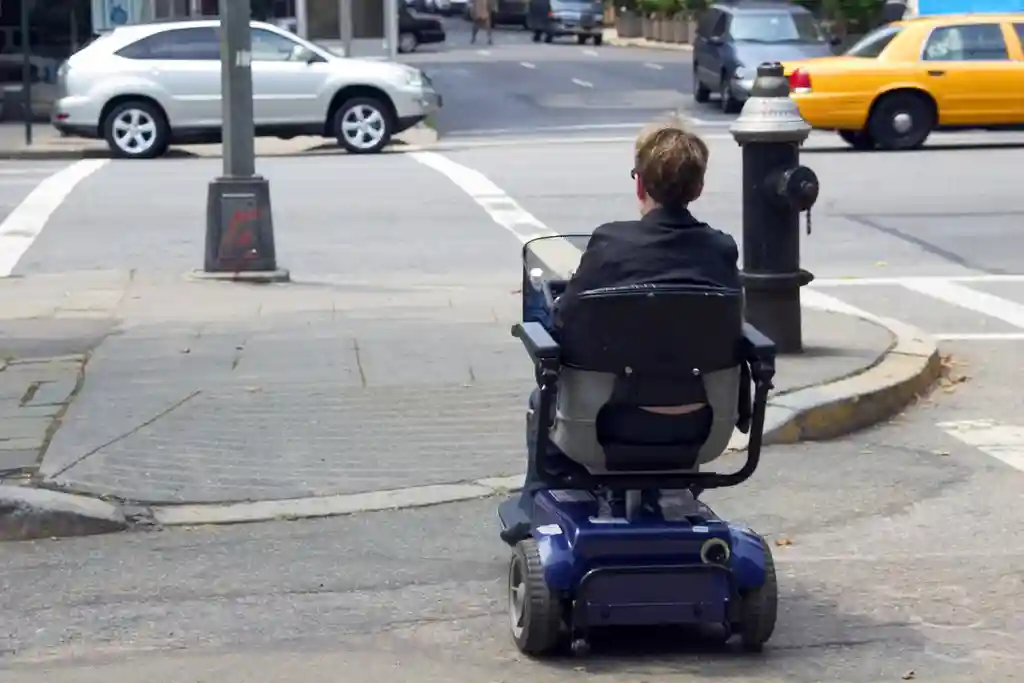 When I was growing up in the '50s and '60s, my Aunt Flo had multiple sclerosis (MS). I didn't know what it was, but I knew she pretty much stayed in bed all day. Sometimes on visits, I would see her in a big chair her family put her in for meals and maybe to watch a TV show, then back to bed.
That was before there were scooters, electric wheelchairs, computers, or the internet. Lying in bed, Flo could talk to visitors for a little while, and that was about it. Sometimes her husband would read to her. I always thought she must be miserable, and as I recall, she died in her 50s of pneumonia or something. With that experience, I thought of MS as worse than a death sentence; more like a life in solitary confinement, then death.
But times have changed. By the time I was diagnosed in the 1980s, society had created ways to enable people with MS to live decent lives. In a moment of gratitude, I came up with this list of things that help me live well. I would hate to lose any of them.
1. My computer and internet. Information technology has transformed most people's lives, but for me, it's been a lifesaver. Using the internet, I'm able to work as a writer, researcher, and advocate. I can entertain myself for hours, keep informed about health and what's happening in the world, research things that interest me, and keep in touch with friends, colleagues, and relatives. On the net, I can manage our household's finances and legal stuff, which makes me feel useful.
2. My electric scooter. I wish my Aunt Flo had had one of these, but they weren't widely available until the '70s. It took 30 years of MS progression until I needed one, but now I use mine all the time, indoors and outdoors. If I didn't have them, I would still be able to get around the apartment in a manual chair, but would be very limited in going out.
Scooters can give us trouble – batteries wear out; the electronics break down; smaller ones can tip over. I needed time to learn how to use mine safely, like: Don't go over a curb! Be careful backing up so you don't tip!
When I was still driving, I could scoot to the car, load the scooter in the backseat, drive somewhere, take it out, and move around. Now that I can't do any of that, I'm so grateful that our city buses and trains are all wheelchair-accessible. I don't need to worry about getting in and out of cars or polluting the air with them.
3. My partner, Aisha. I'm so glad Aisha has stayed with me through 40 years of progression. She's not a natural caregiver, but she tries her best. She infantilizes me a little, but not much. Sometimes she overhelps, but she backs off when I tell her it's too much.
I value her positive attitude so much. Once on a trip to Alaska, I got overheated and virtually collapsed in the hotel room. I had to crawl up the stairs to get there. She had to get wet towels to soak me down for a day. Sounds like not much fun, but she said, "I like traveling with you. You're much better to travel with than my mother was." You can't buy attitude like that.
Does it seem weird to list the love of my life, my #1 helper and friend, after computers and scooters? I'm just trying to be truthful. I asked Aisha if it was OK with her, and she said, "Sure, I thought you'd rank me lower than that."
4. Where I live. Living in a cool, accessible place has made a huge difference. When diagnosed, I lived in the Mission District on the warm side of San Francisco, up two flights of stairs. I could handle it then, but I'm so glad we moved 10 years later to the cooler side of town, near the ocean. I do not do well in warm environments, and the fog out here is a natural air conditioner. What a blessing! Without it, I'd spend a lot more time in bed.
Our first apartment in the fog had a flight of stairs between the living room and the bedroom. That was OK, but after about 10 years, I sensed that it was getting harder. We moved into a nearby high-rise with no stairs, before I absolutely needed to. That was the most brilliant move I ever made, because 2 months after we moved, I had a major progression and would have been really screwed in the old apartment with stairs. Since then, I keep telling people, "Don't wait. By the time you need an accessible place, it will be very difficult to move in there."
5. The Americans with Disabilities Act (ADA). The ADA passed in 1990, before I was significantly disabled. But since then, the curb cuts, accessible buildings, and buses have transformed disabled people's lives. The ADA has allowed me to go where I want when I want. I haven't even had to use paratransit, because our buses in San Francisco are so accessible. It's a drag when the elevators to underground or elevated platforms aren't working, but other than that, I don't feel limited at all.
6. Disability pay. So wonderful that the U.S. decided in 1956, apparently more enlightened times, to pay people Social Security if they couldn't work for health reasons. I can't tell you how much SSDI payments have meant to me over the years. It kept us from poverty and enabled me to develop a second career as a writer. It took away so much stress.
We don't want to go on disability until we have to, and it's a long process to qualify for it with MS, but it's worth looking into. Please keep all your records and read up on how to qualify before you need to. You might avoid mistakes that could cost you thousands of dollars and years of struggle.
7. Physical and occupational therapy. PT and OT have done far more for me over the years than doctors have. They have enabled me to keep moving and shown me how to manage disabilities and use supportive equipment. Like, I hadn't realized that I could get close to a table or desk in my scooter by turning the seat around 180 degrees and backing in, and the same trick works for transferring into a car. An occupational therapist showed me that.
And I never get bored now, because physical therapists have given me so many exercises that I can always do some in downtimes.
I try to remember these things to be grateful for. I realize not everyone with MS has them. While I give myself some credit for finding them and going after them, I realize they are mostly gifts, and I thank all the people and other living things that bring them to me every day.
To connect with other people living with multiple sclerosis, join our MS Facebook Support Group.
Photo Credit: abalcazar / E+ via Getty Images
Tell us what you think of this post?
Important: The opinions expressed in WebMD Blogs are solely those of the User, who may or may not have medical or scientific training. These opinions do not represent the opinions of WebMD. Blogs are not reviewed by a WebMD physician or any member of the WebMD editorial staff for accuracy, balance, objectivity, or any other reason except for compliance with our Terms and Conditions. Some of these opinions may contain information about treatments or uses of drug products that have not been approved by the U.S. Food and Drug Administration. WebMD does not endorse any specific product, service or treatment.
Do not consider WebMD Blogs as medical advice. Never delay or disregard seeking professional medical advice from your doctor or other qualified healthcare provider because of something you have read on WebMD. You should always speak with your doctor before you start, stop, or change any prescribed part of your care plan or treatment. WebMD understands that reading individual, real-life experiences can be a helpful resource, but it is never a substitute for professional medical advice, diagnosis, or treatment from a qualified health care provider. If you think you may have a medical emergency, call your doctor or dial 911 immediately.