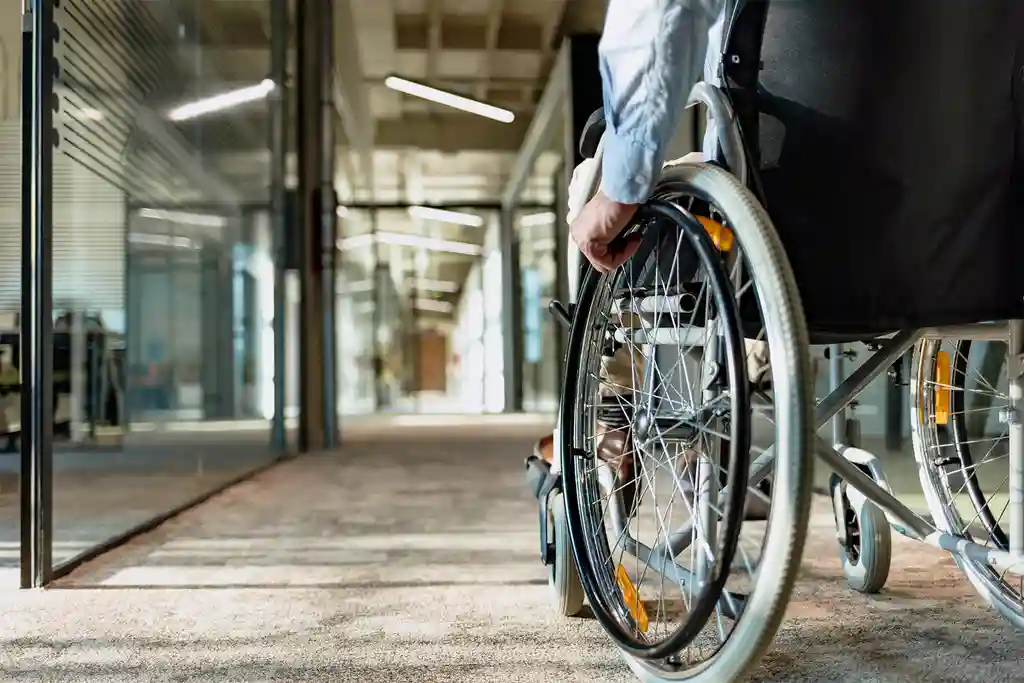 I want to accept an invitation, but I'm scared.  Our family is having a reunion at the end of December. We haven't gotten together in 7 years, and I'd like to go, but we're meeting at my late brother's farm in rural Oregon. This trip brings up a lot of issues for me, and I wonder if I should go or stay home and join with WhatsApp. Some of my concerns relate to my mobility scooter, but others might resonate for most people with multiple sclerosis (MS). 
Travel. I will have to fly and bus to get to Oregon, and then ride in different people's cars to get to the farm and get around to events.  The planes will be small, and I won't be able to ride my scooter on them. (it will ride in cargo. Will it be OK?)
I see on the airline website that we are supposed to tell the airline about wheelchairs when booking a flight, but I cannot see how to do it on the online booking site I'm using.  The phone numbers the airlines give for customer service just take me to government disability hotlines, which tell me to 'hang up and call the airline.' Should I just come to the airport early and hope it all works out?
On the ground, some cars, such as SUVs, give me problems in getting in and out. I'll have to check what my family are driving. I already checked with the bus line to makes sure the buses are accessible. 
Living arrangements. My sister-in-Iaw, Jane, has generously invited my wife and I to stay at the farmhouse. It's a nice place; I've been there before, but that was before I was scooter-dependent.  The entrance is accessible, but I don't know about the bathrooms or the doorways.  I don't know whether to take the armrests off the scooter to avoid scraping up her doorways the way I've left rubber marks on my own walls.
I wonder how easy it will be to transfer from the scooter to a bed or couch when I need to rest my back. I guess I have to ask Jane some more questions. 
Imposing on them. The reunion is for my nephew's 40th birthday, and he's envisioning 5 days or so.  I don't feel comfortable disarranging Jane's house for 5 days. I can't really stay in a hotel because the nearest one is hours away by car. She says it's not a problem, but maybe we won't stay for the whole 5 days.
Weather. It's likely to be heavily snowed in. That happens a lot where she lives. The scooter won't go through the snow, so I might be trapped inside most of the time. 
Compensation. How should we compensate her? I suppose we should gift her and try to help out. I don't know about financially; she's saving us a ton of money and driving time that a hotel would involve. 
Needed equipment. When one is disabled, one gets used to having supplies and modifications. For me, I will have to make sure to have my urinary catheters, lube, and alcohol.  I need to bring chargers for my scooter and phone. I might have to ship some things up in advance. My exercise equipment will have to stay home, but I can exercise without it for a few days.
Downtime. Most of the time will be visiting, but I know from experience I can't be in a party setting all day long with people who talk a lot, such as some of my relatives. I don't want to get exhausted physically or mentally.
I'll need some time on my own.  I can't bring my computer with me, so I won't be able to write. At this point, I would rely on my phone's notepad app and bring something to read.
Food. Fortunately, I'm not too particular about food. I like all of it, and MS doesn't really stop me from eating particular foods, except maybe for sugars, which I find knock me out and promote urinary tract infections. Some people, such as people with diabetes, have to be more careful. The overload of sweets is a big problem at holiday time for a lot of people, but I can resist them, except maybe donuts.
My wife will probably go with the family to shop, and my nephew and nieces love to cook, so I'm sure I'll have good food, just not what I'm used to.  
I'm not going into their kitchen to cook because I don't want to bang into things with the scooter and dent them or smear rubber on them. So I'll be a little less independent than usual.
One last concern that few of you probably share is I don't like the carbon emissions that come with travel. I know that doesn't make much sense when everyone else is traveling around, but it still bothers me. 
I'm glad to have written this article, because now I feel much more confident. Nothing will come up that I can't handle.  When I consider whether or not to do a particular thing, my decision rule is, 'Will this become an ordeal? If it's a real struggle, I won't do it, even if I want to. But I see now this reunion will not be an ordeal.  I will go and have a good time.
I'll let you know how it goes.  Wishing you good holidays, too!
To connect with other people living with multiple sclerosis join our MS Facebook Support Group.
Photo Credit: ljubaphoto / E+ via Getty Images
Tell us what you think of this post?
Important: The opinions expressed in WebMD Blogs are solely those of the User, who may or may not have medical or scientific training. These opinions do not represent the opinions of WebMD. Blogs are not reviewed by a WebMD physician or any member of the WebMD editorial staff for accuracy, balance, objectivity, or any other reason except for compliance with our Terms and Conditions. Some of these opinions may contain information about treatments or uses of drug products that have not been approved by the U.S. Food and Drug Administration. WebMD does not endorse any specific product, service or treatment.
Do not consider WebMD Blogs as medical advice. Never delay or disregard seeking professional medical advice from your doctor or other qualified healthcare provider because of something you have read on WebMD. You should always speak with your doctor before you start, stop, or change any prescribed part of your care plan or treatment. WebMD understands that reading individual, real-life experiences can be a helpful resource, but it is never a substitute for professional medical advice, diagnosis, or treatment from a qualified health care provider. If you think you may have a medical emergency, call your doctor or dial 911 immediately.