4 Tips to Keep Your Pets Safe From Holiday Hazards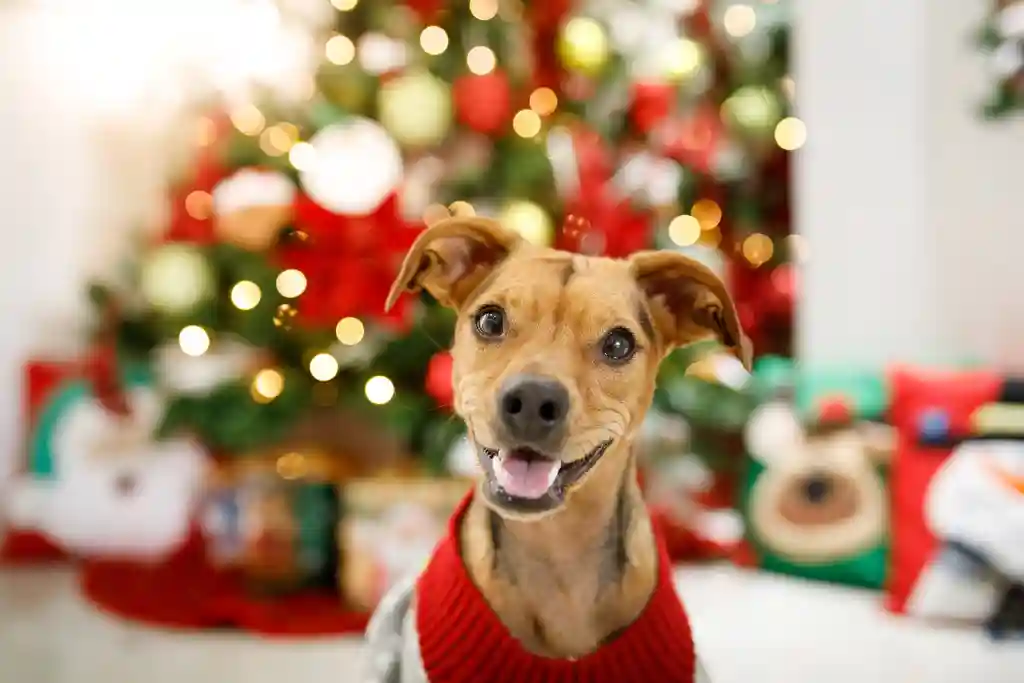 This holiday season is going to be very different. One the best things about the holidays is the chance to reunite with dear family and friends, but of course, due to COVID-19, most us (wisely) won't be gathering as usual this year. It's going to be a big change. But some things will be just the same as in seasons past -- like the holiday-related dangers faced by our furry family members. Here are a few ways you can keep your pets safe. You may have heard some of these suggestions before, but they are worth repeating (and there's a new pandemic-related recommendation):
Keep pets away from the holiday people food! Ham, turkey, turkey skin, brisket: proteins like these tend to contain large amounts of fat, which is very difficult for pets to digest. It can cause the pancreas to kick into high gear and subsequently cause pancreatitis, which can cause severe illness, even death. We historically see affected pets (the large majority being dogs) for the next week or so after holiday-associated meals. And don't forget the desserts, especially those containing dark chocolate or artificial sweeteners containing xylitol. Both ingredients can be life threatening to our pets. Fruits and vegetables like grapes, raisins, garlic, and onions -- all holiday staples -- can be lethal to dogs and cats.
Clean up plates and food scraps -- and put it out of reach -- as quickly as possible. Just because it's tied in the strongest of trash bags doesn't mean your pet won't do everything within their power to get to that turkey carcass or aluminum foil with savory juices on it. Ingesting either one of those can lead to a stressful, late night visit to the ER vet. The bones and cartilage can cause severe gastroenteritis and pancreatitis, and ingesting plastic, foil, or utensils usually ends up with an emergent (and costly) surgery. Grandma's amazing yeast rolls make our stomachs happy but can cause severe bloat, gas, and abdominal pain in our pets.
Make sure holiday plants are out of reach. Pets are inquisitive and won't hesitate to examine, sniff, and even eat holiday plants -- many of which can be toxic to them (hydrangeas, mistletoe, and baby's breath, to name a few). So keep all plants out of reach of inquiring paws.  
Keep in mind that masks can be scary to pets. If you do gather in some way with family or friends outside your bubble, be aware that your face masks (which I hope you will using!) can cause anxiety for pets, who may not recognize someone they've seen numerous times in the past. You may see unusual behaviors, like barking (or hissing), aggression, even stress gastroenteritis (vomiting and diarrhea). If you feel your pet might experience this, be observant with arriving guests -- and if there is any concern, make sure you are prepared beforehand with a safe, quiet place for your pet(s) to hunker down (like a crate or non-public bathroom). 
Yes, times are different, and this holiday season certainly will be. But we will get through this -- and, by avoiding holiday hazards, so will our pets.
Tell us what you think of this post?
Important: The opinions expressed in WebMD Blogs are solely those of the User, who may or may not have medical or scientific training. These opinions do not represent the opinions of WebMD. Blogs are not reviewed by a WebMD physician or any member of the WebMD editorial staff for accuracy, balance, objectivity, or any other reason except for compliance with our Terms and Conditions. Some of these opinions may contain information about treatments or uses of drug products that have not been approved by the U.S. Food and Drug Administration. WebMD does not endorse any specific product, service or treatment.
Do not consider WebMD Blogs as medical advice. Never delay or disregard seeking professional medical advice from your doctor or other qualified healthcare provider because of something you have read on WebMD. You should always speak with your doctor before you start, stop, or change any prescribed part of your care plan or treatment. WebMD understands that reading individual, real-life experiences can be a helpful resource, but it is never a substitute for professional medical advice, diagnosis, or treatment from a qualified health care provider. If you think you may have a medical emergency, call your doctor or dial 911 immediately.