My Top 8 Tips for Staying Sober at Boozy Social Situations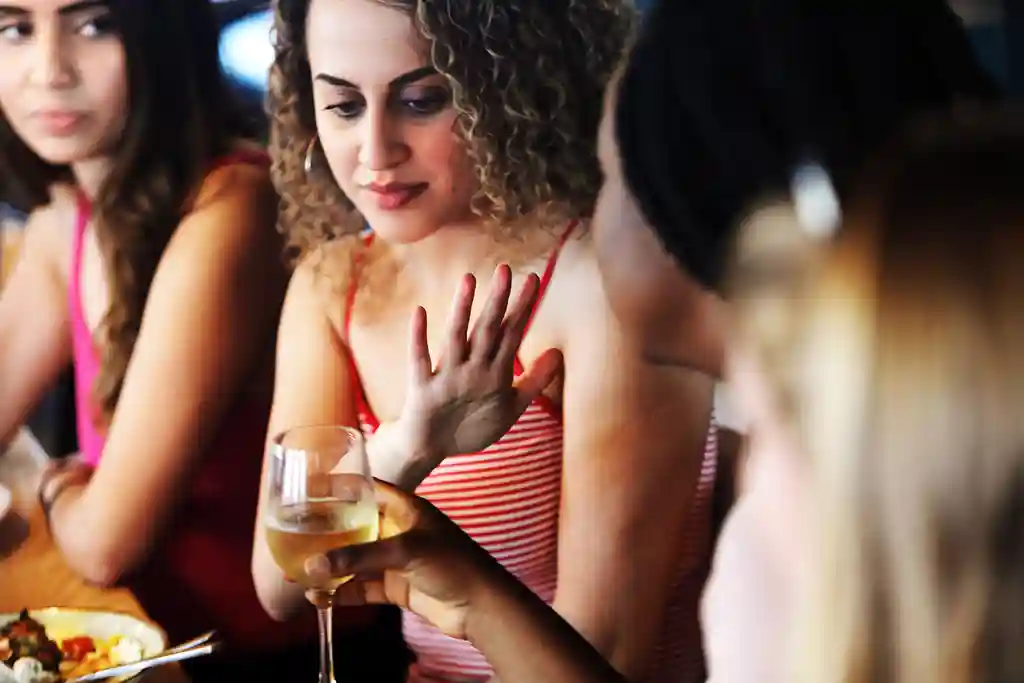 One of the hardest parts of early sobriety is attending events with free-flowing alcohol. Know that you can say "no" to these events, but you don't have to, especially if you plan ahead and have strategies to help you get through the night without booze. Here's how I safely navigate these events.
Make sure you have a reason to attend the event.
It helps to know why you are going to a get-together. If it's a networking event, decide ahead of time who you want to meet or how many connections you're trying to make. If it's a friend's party, take some time and reflect on whether you truly want to go and if you will really enjoy the event, or if you're going out of guilt, or to meet someone else's expectations of you. The goal, in the long run, is to only say "yes" to events that are in alignment with who we are and what we want.
Always have a beverage in your hand.
By beverage, I mean sparkling water, Coca-Cola, or any other non-alcoholic beverage. I make a beeline for the bar and get a drink of my choosing before anyone can offer me a boozy one. Sometimes I even carry a La Croix in my purse and pop it open as soon as I'm at the event. This way, when someone offers me a drink, I can say, "No thanks, I've already got one." We can quickly move on and talk about something else.
Prepare a line or two about not drinking.
It's possible nobody at the party will ask why you're not drinking, but odds are someone will. The default in our culture is to drink, so anyone going against the grain can attract attention. You can just say, "No, thanks" if someone offers you booze and leave it at that. My go-to line is: "I've already had plenty to drink." They may think that I mean that I've had more than a few drinks that evening, but I really mean that I've had enough alcohol to last a lifetime. You could also say, "I'm sticking with water tonight" or "I'm taking a break from drinking." If you're around friends who think of you as someone who drinks, they may push back and ask more questions. If they do, I like to turn it around and ask them why it's important to them that I drink. That usually stops that line of questioning.
Drive yourself to the event.
This is a smart choice for several reasons. One, you'll never have to drive home with someone who is drunk if you drive yourself. Bigger than this, you know you can leave anytime you feel uncomfortable if you take yourself to the event.
Bring an ally.
One of the best strategies to feel comfortable at a gathering is to bring a sober ally. This could be someone who is also sober, or just someone who you trust can make it through an evening without alcohol. 
Leave while you are still having fun.
At any party, even one where alcohol won't be served, it's a wise choice to leave on a high note. Most parties naturally rise and peak as they progress, followed by a decline in fun and good vibes. If it's an event with alcohol, people may start to talk loudly or even repeat stories as the hours pass. Even if it's a sober party, you may find it taxing to continue to make conversation. Everyone is different in this regard. The amount of time that you can comfortably be at a party varies. It might be 3 hours, or it might be 1 hour. Experiment until you find what works best.
Have an exit strategy.
Before you go, decide what time you will leave so you're not tempted to overstay. Have a line ready about leaving. If you're great with boundaries, then a simple, "It's time for me to leave" is perfect. However, if you're still finding your footing with boundaries, you may find it helpful to have an excuse handy, such as "I need to go home and let the dog out" or "I have to get up early for a morning work meeting." 
Plan an activity upon arrival home.
For many people, the transition between a loud, active party and being home alone can feel unsettling. To ease this transition, choose a comforting activity to do as soon as you're home again. Maybe it's taking a bath or watching an episode of a favorite TV show while petting the dog. Maybe it's calling a friend to vent about anything that felt uncomfortable at the party. Maybe it's practicing a few gentle yoga poses while listening to feel-good music. Anything that helps you get calm and centered before bed works well.
Photo Credit: Peter Cade / Stone via Getty Images
Tell us what you think of this post?
Important: The opinions expressed in WebMD Blogs are solely those of the User, who may or may not have medical or scientific training. These opinions do not represent the opinions of WebMD. Blogs are not reviewed by a WebMD physician or any member of the WebMD editorial staff for accuracy, balance, objectivity, or any other reason except for compliance with our Terms and Conditions. Some of these opinions may contain information about treatments or uses of drug products that have not been approved by the U.S. Food and Drug Administration. WebMD does not endorse any specific product, service or treatment.
Do not consider WebMD Blogs as medical advice. Never delay or disregard seeking professional medical advice from your doctor or other qualified healthcare provider because of something you have read on WebMD. You should always speak with your doctor before you start, stop, or change any prescribed part of your care plan or treatment. WebMD understands that reading individual, real-life experiences can be a helpful resource, but it is never a substitute for professional medical advice, diagnosis, or treatment from a qualified health care provider. If you think you may have a medical emergency, call your doctor or dial 911 immediately.