What Treatment Day Is Like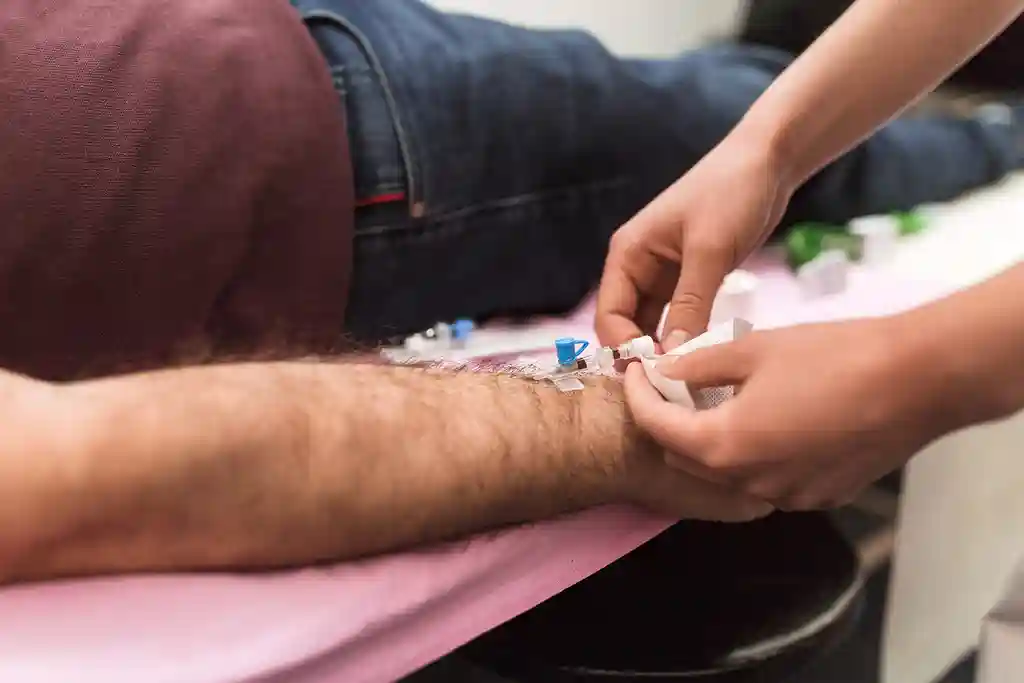 In the 6 years that I've had ulcerative colitis, treatment day has been different, depending on where I was at in my journey. In the beginning, I was diagnosed with ulcerative proctitis -- inflammation of the lower part of the colon.
Treatment at this stage meant daily suppositories. As inflammation spread up my colon, the diagnosis became ulcerative colitis and treatment became daily mesalamine enemas and pills.
Because my condition kept worsening, the next treatment my gastroenterologist prescribed was an intravenous biologic. While I took the previous medications by myself at home, I received this medication at a hospital every 8 weeks. In my case, this meant traveling about 2 hours one way to an infusion center in Sioux Falls, SD.
My retired mother would often accompany me to these treatments. This made the drive easier and allowed us to spend some quality time together. As I mentioned in my previous post, I would call the hospital when I was about an hour away so that they could get a head start on mixing up the medication. This saved time at the hospital.
Once I checked in, and a nurse had hooked up the IV, I would text my aunt who worked at the hospital. She would visit us on her break. Her visits were always fun and helped the time pass by much more quickly. If she couldn't make it that day and I was alone, I would either read or grade my students' written work.
The IV was programmed to drip for 2 hours. After the bag was empty, a nurse would unhook me and I was done. I usually scheduled my infusions to start at 10 a.m., so treatments would end at lunchtime. Whether my mom was with me or not, I often ate lunch at a place I hadn't tried before. Then I would make the 2-hour drive home.
Because this biologic successfully managed my condition for 5 years, I didn't mind that receiving treatment meant devoting at least 6 hours of my day to it. At the end of those 5 years, I transitioned to receiving my infusions at home through a home infusion company, but I was able to receive only one home infusion before I had to change biologics because the infusion medication was no longer managing my symptoms well.
My current biologic is an injection I give myself every 8 weeks. To take advantage of the manufacturer's savings program, I order the medication by phone rather than online, and it is shipped to me later that week. Although I can give myself the injection anytime I want on treatment day, I usually do it right after work.
Whatever your treatment day is like, think about what you can do to make it go more smoothly. If it helps, bring Mom!
Photo Credit:  Dobrila Vignjevic / E+ via Getty Images
Tell us what you think of this post?
Important: The opinions expressed in WebMD Blogs are solely those of the User, who may or may not have medical or scientific training. These opinions do not represent the opinions of WebMD. Blogs are not reviewed by a WebMD physician or any member of the WebMD editorial staff for accuracy, balance, objectivity, or any other reason except for compliance with our Terms and Conditions. Some of these opinions may contain information about treatments or uses of drug products that have not been approved by the U.S. Food and Drug Administration. WebMD does not endorse any specific product, service or treatment.
Do not consider WebMD Blogs as medical advice. Never delay or disregard seeking professional medical advice from your doctor or other qualified healthcare provider because of something you have read on WebMD. You should always speak with your doctor before you start, stop, or change any prescribed part of your care plan or treatment. WebMD understands that reading individual, real-life experiences can be a helpful resource, but it is never a substitute for professional medical advice, diagnosis, or treatment from a qualified health care provider. If you think you may have a medical emergency, call your doctor or dial 911 immediately.